Moderators: Dave Zero1, Don Alexander, Giz, midgetshrimp
Posts: 1673
Joined: Fri Oct 07, 2011 2:48 am
The baggage is such that even a ONS would be more trouble than it's worth.
---
BANNED
Posts: 176
Joined: Mon Sep 04, 2017 10:30 pm
Vitocap

wrote:

↑

Wed Nov 08, 2017 5:21 am

LegendaryKroc

wrote:

↑

Wed Nov 08, 2017 12:45 am

Hah! That video is a hoot!

You're underpraising it. That video is the best thing since sliced bread. And it was uploaded in 2006! How come we are only now finding it exists?

Somebody send the link to Giz. She should do a strip where Gary is watching Australian TV and this ad starts to play right when another character tries to browbeat him into doing something he doesn't like.
LOL!!! here, a gif made from the video: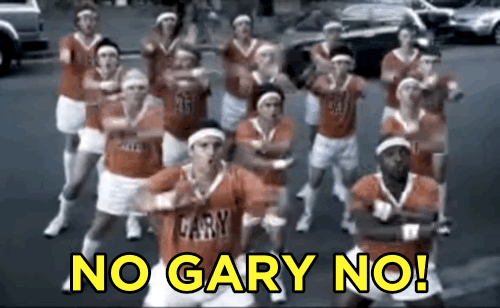 ---
---
Posts: 203
Joined: Tue Jul 28, 2009 11:20 am
It's a false choice. Calling the choice "fair" when the choice was never asked for to begin with. Manipulative and ignorant.
---
Posts: 127
Joined: Tue Sep 21, 2010 4:35 am
Location: Switzerland
Fairy Glade's Fairy

wrote:

↑

Wed Nov 08, 2017 10:36 pm

LOL!!! here, a gif made from the video:
Too bad it's too big to use as avatar
---
Posts: 295
Joined: Mon Nov 29, 2010 4:44 am
True, especially when you realise she knows Gary is attracted to her, it's how she's manipulated him in the past. Especially with the last threesome, she tried to bribe him into going through with it with apparently the swirly version of a blow job. And she knows Gary isn't into James and goes through with the shit she forces him into reluctantly. To her, this is just another contest for her to win. She knows Gary would pick her so it's an easy win, and she gets to rub that into James' face.
---
Posts: 11
Joined: Mon May 01, 2017 4:28 am
Say no Gary. Better to keep that thing you have going with Peggy instead.
---
Posts: 22
Joined: Wed Dec 30, 2015 12:29 am
Shouldn't it be 'For whom exactly'?
---
Posts: 12754
Joined: Fri Jan 27, 2012 6:11 pm
Yes. Yes, it should. Good catch.
---------
Spidrift
"Brevior vita est quam pro futumentibus negotium agendo."
-- Motto of Hogshead Publishing of fond memory, and wise words to set your Foes List by.
Avatar misappropriated from the wonderful XKCD.
---
Dr. Ebil SithMod
Posts: 27859
Joined: Sat Aug 30, 2008 11:26 am
Location: Under the arms of the ancient oak, where daylight hangs by a lunar noose...
Haha, awesome GIF.

And what is this, Pokémon?? I CHOOSE YOU, TRACYZARD!!!
Sithlord of the Sithling and best customer of McLovecraft's
, in the business of keeping the little Platypus in business
Moderations in GREEN and signed by the DAMNed. I am

not

anonymous!
Also, MODSMACK!!
Winner of the... 2010 Kilopost FRANKIE; 2010 Mad March Nom Off; 2010 Joker Cleavage Contest; 2010 Fan-Thing Contest; 2010 Mimic Contest (tied); 2011 Joker Cleavage Contest; 2011 Contest-for-the-next-Contest (tied)
---